Description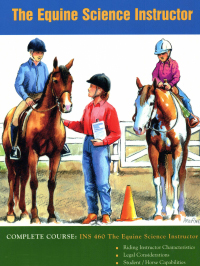 This comprehensive course guides the equestrian instructor through the development of a professional business, presentation, and teaching plan.  You will discover how important it is to consider the  various personalities and abilities of your riding students, and also how to improve the horse/rider relationship. This course is a unique educational guide for the prospective instructor as well as the seasoned veteran. Polish your teaching and management skills and earn your Equine Instructor Certificate.
Lessons cover:
Riding Instructor Characteristics
Legal Considerations
Student/Horse Capabilities
Riding Safety
Riding Facility
Lesson Plan Guide
Please Note: When ordering the INS 460 course, it will be mailed to you via USPS. Upon completion of ALL six quizzes they are then returned to NHEEC for instructor grading. They may be scanned and returned together via email to admin@NewHorizonsEquine.com or they may be mailed to New Horizons. The graded quizzes and Certificate of Achievement will be returned to you via USPS.