Description
The NHEEC series specifically designed for adults and advanced youth.
The EQU 101-110 series provides a perfect foundation for a lifetime with horses. Step-by-step, you'll learn the essentials of horse ownership, care and management—including some surprising facts that everyone who works with horses should know.
Each course is divided into six lessons, including text, illustrations and assignments. New challenges are introduced throughout the series, and each lesson ends with a quiz.
Courses are recommended to be taken consecutively, beginning with EQU 101.  A Certificate of Achievement is awarded after completion of each course. Students who graduate through the entire EQU 101-110 Series will be awarded a special suitable-for-framing certificate.
When you buy the complete series, you'll receive the following 10 courses —60 lessons in all—plus FREE enrollment,  a FREE binder AND FREE shipping! Details about each course can be found by clicking on the Equine Science Series tabs below.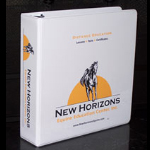 EQU 101-110 Complete Series $750
Save $250 when ordering the entire Equine Science Series!

Please Note: For your convenience, when ordering the entire series, the courses will be mailed to you via USPS. You don't have to worry about downloading and printing the entire series. The courses are printed on 3-hole punch paper, suitable for adding to a 3-ring binder. As you progress through each course and complete ALL six quizzes for that particular course, they are then returned to NHEEC for instructor grading. They may be scanned and returned together via email to admin@NewHorizonsEquine.com or they may be mailed to New Horizons. The graded quizzes and Certificate of Achievement will be returned to you via USPS. If, however, you would rather complete the quizzes online, you will also have access to the quizzes through the My Courses tab and upon verification of course completion a Certificate of Achievement will be mailed to you.