Welcome to New Horizons Equine Education Center! We are proud to offer the most comprehensive Home Studies Program for horse enthusiasts available today.
Whether you are new to the horse world or have years of experience, we are confident you will find just the right courses to help you achieve your goals. Our lessons are designed to guide you from basic through advanced horsemanship, focusing on both the art and science of equine management. Whether you are preparing for a career with horses or simply want to improve your equestrian knowledge for personal benefit, New Horizons has 30 years of experience in distance learning to help you achieve your goals.
Here are just a few of New Horizons' advantages:

Choose from downloadable PDF lessons or mailed hardcopies
Study at home or anywhere, with or without your computer
Learn from horse industry experts
Work at your own pace and set your own schedule
Affordable and cost effective courses
Earn grades and Certificates of Achievement
Personal service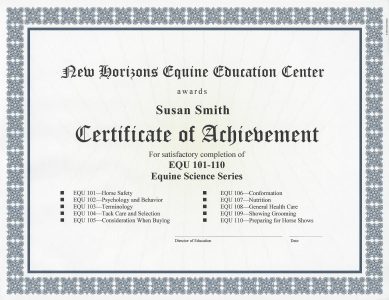 Each New Horizons course is designed to get you actively involved. While the number of lessons may vary from course to course, you will complete tests, quizzes and assignments—either online or through the mail. The choice is yours! You'll earn grades and Certificates of Achievement, and receive personal notes of encouragement.
Take your time, click around our site, and feel free to contact us with any questions you may have.
We look forward to enrolling you as a New Horizons student!